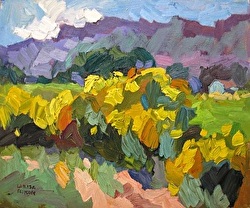 Larisa Aukon. Everything You Need. 10x12, oil
Plein Air
|
Video
---
« Grounded | Main | Painting horses in plein air »
---
---
2 Responses to Plein air painting step by step.
Kent Downing
via aukonlarisa.com10 months ago
Good grief! I had not seen your step-by-step video until just now either. Again, thanks so much.
SuzanneSnyder
via aukonlarisa.com8 months ago
Awesome!!! I showed some of your art to a friend - and he had pulled up some of your videos!!! Great music on them-Iloved the background for the one that showed your paintings!!! This teaching on is very interesting!I havent painted with oil for 40+ yrs - so this is very helpful - before I dive into this medium!

* indicates a required field