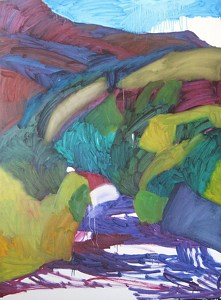 I hate to show work in progress. I never show unfinished paintings. If there is too much raving - it is hard to take chances if I need to.When somebody doesn't like the painting - it is easy to get under the spell of negativity , to loose the interest and stop working. Process of a studio work have to be between me and the painting. And, exactly because I don't like to show unfinished paintings, I decided to jump right into my "discomfort zone". I will take a photo after each session, short or long, and will post it here. It is interesting to practice detachment and watch how this painting is unfolding and growing. For me there is always a conversation between me and the painting, sometimes it is a quiet dialog, sometimes - there is a very strong disagreement.
This is 40x30 oil and I paint on Ampersand gesso board. I have no idea how long it will take me to complete this piece - it can take a month or a year. For now, I will call this painting "Meditation break".
I will do my best, pray and step into the unknown.
Topics:
Work in Progress
---
« Creativity and Composition. | Main | Work in Progress. Session 2 »
---
---
6 Responses to Work in progress. Dialog with the painting.
Glenn Thurston
via aukonlarisa.com28 months ago
This is a real treat; I always wonder about how some one else works thru the process of creating a painting. I like to think there is a system, I have a few basic things I do, but this is no guarantee of successful results. Emotionally creating a painting can be a wild ride. It looks like you start by sketching for ideas and then lay in the big shapes with thin paint. I assume you don't use earth tones on your pallet; do have a large number of pigments on your pallet or do you do a lot of color mixing? I also judge that you decide ahead of time to make the overall design either strong cool or strong warm.